The 2017-2018 Academic Year Scholarship Application
Available December 1, 2016  
Submission Deadline is March 1, 2017
HOW TO APPLY
1) You must be a registered student at PCC to apply for PCC Foundation Scholarships.  If you are not already a student, contact PCC Admissions 719-549-3010.
2) Log into MYPCC Portal; STUDENT FINANCE tab; FINANCIAL RESOURCES tab; SCHOLARSHIPS, or SCHOLARSHIP MANAGER  to create a user Name & Password.  To access the PCCF Scholarship Application, students are required to have been accepted for admission to PCC, assigned a student identification number (S#), and have a college-issued email address.
HOW TO PREPARE
1) Write your essays
2) Find two instructor references
HOW TO GET HELP
1) Attend a Scholarship 101 Workshop.  The PCC Foundation Scholarship 101 Workshops provide information about the online application process; what elements help create a competitive scholarship application.  The first 45 minutes will focus on the online process of how to complete your application.  The second 45 minutes will focus on tips for writing essays.   Free Scholarship 101 Workshops  – 90 minute structured sessions limited to first 20 attendees:
Pueblo Campus: Learning Center Room 51
December 6, 2016; 9:00 – 10:30 AM
December 8, 2016; 3:00-4:30 PM
January 26, 2017; 9:00-10:30 AM
February 9, 2017; 3:00-4:30 PM
February 14, 2017; 9:00-10:30 AM
February 16, 2017; 3:00-4:30 PM
February 21, 2017; 9:00-10:30 AM
Fremont Campus: Classroom TBD
January 19, 2017; 9:00-10:30 PM
February 2, 2017;  2:00 – 4:00 PM – NEW TIME
WHAT HAPPENS AFTER I APPLY
1) We let applicants know the results by mid-May.  We send notification to your college issued email.  Scholarship money will be available the following fall and spring semesters to help pay for tuition, books and fees.
By completing and returning the PCC Foundation Scholarship Application, students are able to apply for scholarships (public and private) administered by the Pueblo Community College Foundation.  Scholarships must be applied for annually.  Contact Robin Cope, Scholarship Coordinator,  719.544-0677; Robin.cope@pueblocc.edu.
Forms:
HOW TO PREPARE ONLINE SCHOLARSHIP APPLICATION
TIPS FOR WRITING EFFECTIVE SCHOLARSHIP ESSAYS
VOLUNTEER HOURS FORM – FALL SEMESTER
VOLUNTEER HOURS FORM – SPRING SEMESTER
JATRAS SUPPLIES & EQUIPMENT FORM
Links:
SEARCH FOR PCC FOUNDATION SPECIFIC SCHOLARSHIPS & DONORS
LISTING OF ADDITIONAL SCHOLARSHIPS AVAILABLE TO PCC STUDENTS

The Pueblo Community College Foundation has supported learning for thousands of students since it was founded in 1981.  The Foundation is committed to awarding scholarships based on academic ability, special educational interests, talent and – in some cases – need.  Each scholarship that is awarded by the Foundation has it own set of guidelines for the application and selection process.
In 1988, the first allocation of scholarships totaled $12,000
Since 1988, approximately $4.0 million has been awarded to PCC students in scholarships
The PCC Foundation has awarded an addition $12 million to the institution for program support.
This year, the Board of Directors of the Pueblo Community College Foundation has budgeted to offer $300,000 for student scholarships.
Through the PCC Foundation's scholarship program, this partnership between donors and students works to bring about positive changes to the lives of individuals, families and the Southern Colorado communities.  The goal of this specific program is to fit the desires of the benefactor with the needs of the students.
Eighty percent of the Pueblo Community College students receive some form of financial assistance.
Pueblo Community College awards $12,000,000 in student financial aid including grants and loans.
We welcome your involvement with the PCC Foundation's student scholarship program and hope that you will contact us should you wish to become involved in this effort that works to educate the Southern Colorado community.  By working together, WE CAN MAKE A DIFFERENCE in the lives of others!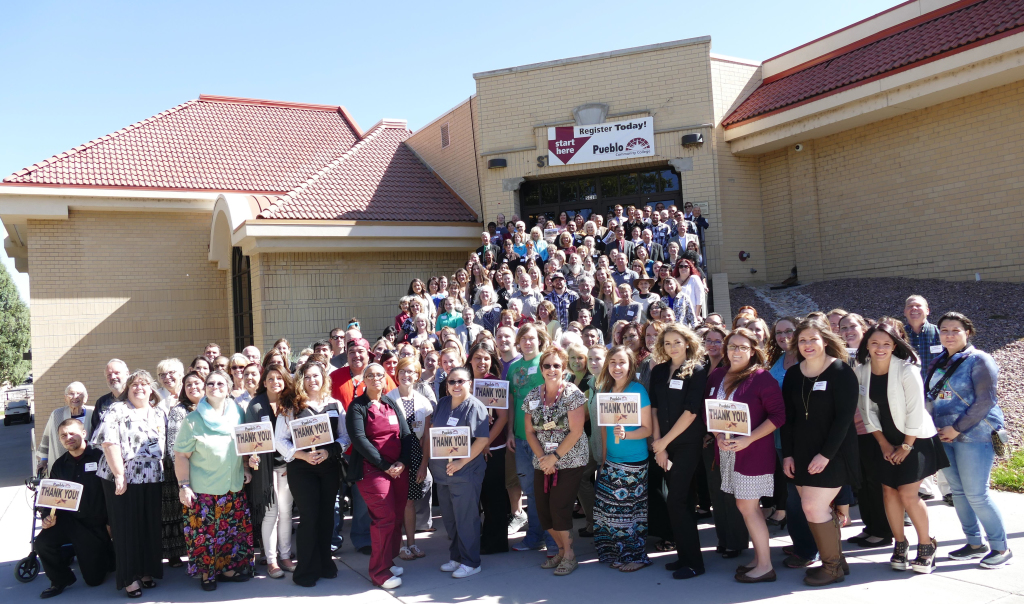 CLICK HERE TO MAKE A DONATION TO THE PCC FOUNDATION SCHOLARSHIP PROGRAM
CLICK HERE FOR GUIDELINES FOR ESTABLISHING A SCHOLARSHIP
Pueblo Community College Foundation
Mailing Address:  900 West Orman Avenue, Pueblo, CO 81004
Physical Address: 1018 W. Orman Avenue, Pueblo, CO  81004 
For information, contact Robin Cope, PCCF Scholarship Coordinator
719.544.0677 or email to Robin.cope@pueblocc.edu