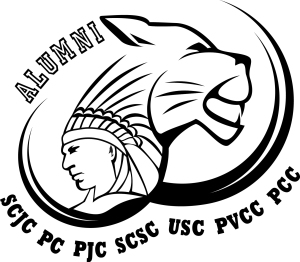 From the Pueblo Chieftain – May 16, 2015
'Have a plan' PCC grads told  – Speaker: Give back too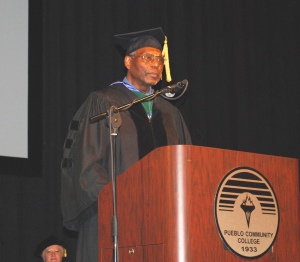 A new class from Pueblo Community College is ready and equipped to tackle the next step.
PCC graduated 849 students from its Pueblo and Fremont campuses Friday night at the Southwest Motors Event Center on the Colorado State Fairgrounds.
The graduates were cheered loudly during the 2015 by hundreds of friends and family members, who have supported and encouraged them throughout the course of their educational journey.
Isaac S. Pope, who attended then-Pueblo Junior College, was part of the 1961 National Junior College basketball championship team and went on to earn a medical degree from the University of Washington School of Medicine in 1974, addressed the graduates at the commencement ceremony by telling them to develop a life plan and to always advocate for themselves.
"You have to have a life plan to give yourself direction," Pope said. "Make sure everyone who will listen to you knows your life plan. Why? Because they cannot help you if they do not know what your life plan is."
Pope continued, "You must have a life plan, you must more than ever be able to advocate for yourself and above all have no fear, absolutely no fear of failure."
Levi Ropp, PCC's associated student government president, addressed his fellow graduates by offering some advice to them.
"Everyone makes mistakes but don't let those mistakes define who you are," he said.
"We must always stand back up and try again since that's how we learn to make changes and become better leaders. To succeed, you must aim high and be the one that sets the bar for others to follow.
Don't settle for less than you can achieve, and let people know who you are and what you stand for."
Though not part of the ceremony Friday night, Alumni Association Graduate Recognition Awards have been given to a graduate from each of PCC's three branches. The award is handed out to recognize graduates who, despite life's challenges and obstacles, have attained a degree or certificate with extraordinary perseverance and commitment.
The awardees were Timothy Brown from the Pueblo campus, Charles Jones from the Fremont campus and Charise Gianetto from Southwest Colorado Community College.
Pope concluded his address by thanking PCC for letting him speak and wishing all of the graduates the best of luck in their future endeavors.
"I wish you all the success in the world," Pope said, concluding his address. "When you are successful, don't forget where you came from. Give something back to your family or to your community."
About Dr. Isaac Pope
Dr. Isaac Pope honored by his peers for 'excellence'  (Business to Business, excerpts from a 2006 article by Victoria Stewart)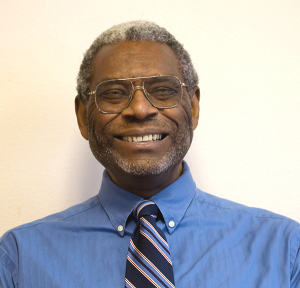 "This award means a lot to me," Dr. Pope says from his busy office at the nonprofit clinic, Pope's Kids Place in Centralia. Named as the recipient of the 2005 Physician Excellence Award by his peers at Providence Centralia Hospital means something special to Isaac Pope, M.D.
He explained that over the course of 26 years of service in Lewis County, he has received many awards. But this one, coming as it did from the peers he has worked with over the years, had the most meaning.
Born in South Pittsburgh, Tennessee, Pope was one of five children, and the one "in the middle," he said with a smile. He has two brothers and two sisters. His parents were a hard-working couple, neither of whom had more than a ninth grade education: but they had dreams for their children. "They just pushed us," he recalled.
While his father worked in a cement plant, Pope's mother was a dreamer as well as a hard worker. A fantastic cook who was always coming up with new and inventive ways to earn money, she started a catering service and Pope credits her with his own love of cooking.
Along the way of raising their own family of five children, the Popes grew by an additional five children who lost their parents in a set of tragic accidents (the father was killed in a coal mine accident and the mother in a car accident).
Despite raising ten children, the Pope family always managed to make ends meet. His parents' determination and "pushing" paid off as several of the children went on to attend college–including their middle son, who became a pediatrician.
 It was while pursuing his career as a pediatrician that Pope and his wife of 38 years, Jo, headed for Lewis County in 1979; despite the warnings of several friends who said they might encounter prejudice in the rural community. The Popes found themselves more than welcome and, after a hard two years of getting his fledgling practice off the ground, Dr. Pope became a successful and popular pediatrician.
 Dr. Pope and Jo are the proud parents of twin boys and a daughter: David and Stephen, 34, and Theresa, 30. None of the three followed their father into the medical profession. "They said I work too hard," Pope laughs.
 With his deep love of children, there was something that always bothered Dr. Pope in his practice–the very sick children, the ones with special needs, and the struggles their dedicated and exhausted parents faced daily. Dr. Pope wanted to whatever he could to help.
"One thing I noticed was the disintegration of the families. There was no break, 24/7," he said.
Dr. Pope, working with the nurses at the Lewis County Health Department, took an innovative first step to helping the families. "We started a Board of Review. We would have everybody in the room involved with the child, the caregivers and the parents, and would come up with a plan." The concept, which the rest of the country began doing years later and called "case management," proved a great success.
About the time he was wishing he could do more for the families of very sick children, Pope was diagnosed with cancer, a very 'frightening" experience for him. After time spent in the hospital, he realized that if he wanted to help the children he would have to give up his busy practice and devote himself to the project. After talking with Jo, the pair decided to sell his practice and devote themselves to his dream. Pope's Kids Place was born, but not without the generosity of the community and the many other volunteers who make it happen, Dr. Pope says.
The mission of Pope's is to provide comprehensive health and social services with a focus on children with special needs. Children with special needs, as well as children who are financially disadvantaged, are helped at Pope's. No one gets turned away. If children come when they are sick, or needing help with dental or medical or social programs, we help them. Pope's relies on public support for these children whom others in the medical field consider, "write-offs."
Funding needs to support the programs at Pope's Kids Place are enormous. The Popes note that the tremendous generosity the community has shown through the years has been invaluable. Dr. Pope has a vision to have a larger medical clinic and more space for dental. They are growing outside their walls with their patient load and Dr. Pope is not that far from retiring.
Dr. Pope, however, is quick to reassure that while he will work less, he has no plans to completely leave Pope's Kids Place. One of Dr. Pope's special joys is visiing with the children he has helped in the past. "All of these kids who come by to see me, who are adults and stop to say hi," he smiles.
Dr. Isaac Pope Wins Prestigious Jefferson Award in Washington State!
Read about the Jefferson Awards Seattle Post-Intelligencer – March 26, 2002
Dr. Isaac Pope is a man who has committed himself, heart and soul, to a cause that was worth giving up his flourishing medical practice: the care of special needs children and their families in Southwest Washington. About ten years ago, Pope received what amounted to a death sentence when he was diagnosed with an advanced and difficult to treat form of cancer.  Even with radical surgery, his survival time was estimated to be less than five years.  Upon his discharge from the University of Washington Medical Center, he came home to Southwest Washington, and soon decided to devote whatever time he has left to doing something he truly believes in.  He envisioned a project that would make a significant difference in the lives of some of Lewis County's most fragile and vulnerable citizens and their families.
Dr. Pope knew from his sixteen years of pediatric practice that children and families who live with developmental disabilities and/or special health care needs are faced with endless obstacles and seemingly insurmountable odds when they need services.  With that knowledge in mind, his vision began to take shape.  In order to devote himself fully toward making this vision a reality, he realized that he would need to sell his highly successful pediatric practice.  Even before the sale was complete he began to recruit others to help him achieve what seemed to be an impossible task.
Over the past five years, Isaac Pope has personally expended nearly ten thousand volunteer hours in bringing his vision to reality.  He has organized and inspired community leaders and members who share his passion into a cohesive team whose aim is to create a center for children and families challenged by special needs.  A consensus among those involved in the project determined that an appropriate name for the center would be Pope's Kids Place, a choice which Dr. Pope reluctantly agreed to.  Members of the Board of Directors for Lewis County Children with Special Needs, the governing body of the non-profit Pope's Kids Place answered Dr. Pope's call and challenge.
Today Pope's Kids Place offers a pediatric clinic, managed by a pediatric nurse practitioner, a day treatment and respite center for children and families, and an outreach program whose focus is on identifying children and families with special needs.  The overriding goal in providing these services is to help maintain the well-being and improve the quality of life for the center's clients.
Beginning at a very early age, Isaac Pope has lived his credo that one individual can and does make a difference in the lives of others.  He honorably served his country in the U.S. Air Force as an enlisted man and later as a physician with the U.S. Army Medical Corps.  After graduation from Pueblo Junior College in 1962 and from Gonzaga University in 1965, Isaac Pope joined the Peace Corps and served a two-year stint as a high school science teacher in Sierra Leone, West Africa.  He returned to Washington state and entered the University of Washington's Master of Public Administration degree program.  While enrolled there he served for a time as director of the Peace Corp's training program for Gambia, West Africa.
Dr. Pope fulfilled a lifelong dream when he earned a Medical Degree from the University of Washington School of Medicine in 1974.  Since that time, he has devoted himself to improving the lot and lives of children and families in his community.  In addition to his very busy pediatric practice, Dr. Pope provides medical services to Green Hill School and Maple Lane School, two of the state's juvenile correctional facilities.
In addition to maintaining active involvement in his community and in Washington State's governmental policy affairs related to children's issues, Dr. Pope has set the highest standard for personal achievement and dedication to the welfare and quality of life of those in need.