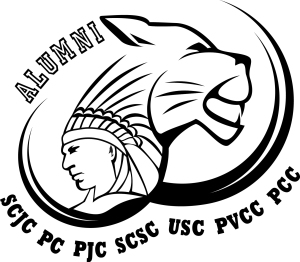 The Pueblo Community College Alumni is currently seeking membership from graduates who attended SCJC (Southern Colorado Junior College), PC (Pueblo College),  PJC (Pueblo Junior College), SCSC (Southern Colorado State College), USC (University of Southern Colorado), PVCC (Pueblo Vocational Community College) and PCC (Pueblo Community College); all of whom have attended campus on the Orman Avenue Campus in Pueblo, the Fremont Campus in Canon City and the Durango, Cortez or Mancos campuses located within the SCCC district.
Membership within the PCC Alumni Association is $15.  You simply need to contact Barb Simms in the Record's office at the Pueblo Campus of PCC to arrange payment and pick up or delivery of your Alumni Membership card and FREE t-shirt.  We will get you signed up and add your name to our electronic email list.  Your membership will allow you the opportunity to keep in touch with the PCC Alumni Association, connect with thousands of classmates who – like you – began their  journey on the Orman Avenue campus, the Fremont Campus and/or the southwestern campuses in Durango and Mancos/Cortez.  In addition, as a card-carrying member of the PCC Alumni you will receive special offers which will be regularly updated on the site below.  The PCC Alumni Association membership card is required and necessary for you to show at each participating vendor in order to receive the discount offer (including all of the PCC Pueblo Campus discounts).
The PCC Alumni Association invites and encourages all alumni to continue their involvement and support of  PCC and its former institutions and we invite you to become actively involved in the mission of PCC.  By participating in the educational, community, philanthropic, and "just-for-fun" events and programs on and off campus, you may continue to enjoy the life-long learning experience that you enjoyed while you were a student a one of our institutions.  In addition, you will join with thousands of other alumni who are becoming stakeholders in the education of future PCC students.
If you would like to receive membership information, contact Barb Simms at 719.549.3085 or email to Barbara.simms@pueblocc.edu.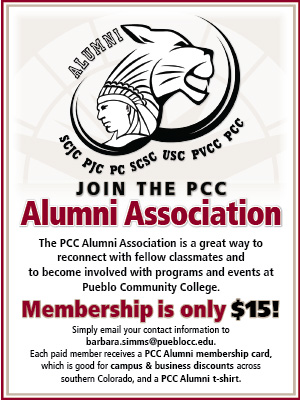 DONATIONS TO THE PCC ALUMNI ASSOCIATION
SUPPORT CURRENT SCHOLARSHIP OPPORTUNITIES
The PCC Alumni Association is committed to supporting success for current and future Pueblo Community College students.
You can show your PCC Pride by making an investment into the PCC Alumni Association and once received, we will send you a PCC Alumni Association apparel item.