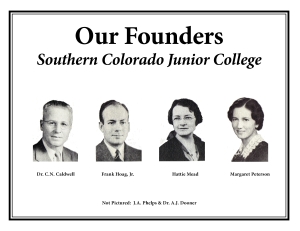 Pueblo Community College traces its origin to 1933, when Southern Colorado Junior College (SCJC) was incorporated. SCJC classes were held on the top floor of the Pueblo County Courthouse and graduated the first class of 17 students in 1935. In 1936, the first building on the current Orman Avenue campus was built on land donated by the Colorado Fuel and Iron Corporation. One year later, local citizens made a commitment to support the institution with county taxes and organized the Pueblo County Junior College District, and the institution was renamed Pueblo Junior College.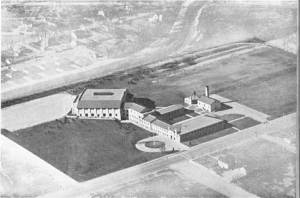 Pueblo County voters approved $210,000 for building facilities in 1938 and, over the next two years, work was completed on an Arts Building and a gymnasium. In 1946, the institution gained approval for vocational rehabilitation training and a new vocational-technical building opened four years later. The school was renamed simply as Pueblo College.
Establishment of Southern Colorado State College
The Pueblo Junior College District was dissolved in 1961 when Colorado's General Assembly enacted legislation to change the status of Pueblo Junior College to a four-year, degree-granting institution governed by the Board of Trustees for State Colleges. The college was named Southern Colorado State College (SCSC). It grew rapidly and offered educational programs both at the Orman Avenue campus and at a newly developing campus north of Pueblo's Belmont residential district.
Development of the College for Community Services and Career Education
The need for additional secondary, post secondary, and adult vocational training in southern Colorado was recognized not only by the college administration but also by the community and many state agencies. Most of the Orman campus buildings had a vocational orientation, and the decision to revitalize the campus as a vocational-technical training center was based on both past programs and functional accommodations.
In 1974, Southern Colorado State College gave the name "College for Community Services and Career Education" to the vocational activities located on the Orman Campus. These vocational programs provided training to secondary, post-secondary, adult, and special students. In 1975, the Colorado General Assembly passed legislation that would allow Southern Colorado State College to operate the College for Community Services and Career Education as a technical community college. This change was made to enable the programs to be eligible for state and federal vocational funds within the state's Community College and Vocational System.
Pueblo Community College
In 1978, the Colorado General Assembly passed a bill that changed the status of the College for Community Services and Career Education from a component of the University of Southern Colorado to a separate and free-standing educational entity. On July 1, 1979, Pueblo Vocational Community College became a State System Community College; and on July 1, 1982, the name was officially changed to Pueblo Community College (PCC).
By 1987, PCC had become a comprehensive community college, offering a broad range of general, personal, vocational, and technical education programs as well as providing two-year transfer programs to qualify students for admission to the junior year at other colleges and universities. Today, we place equal emphasis on both vocational and transfer degree programs.
PCC's history of offering courses in Cañon City blossomed into a more permanent presence in 1986, when we leased facilities on the grounds of the Holy Cross Abbey. A community fund drive that raised more than one million dollars allowed us to secure $8.2 million in state funding for a stand-alone campus. Ground was broken on March 11, 2000 for a new 33,000 square foot multi-functional building. Classes were first held in the new Fremont Campus facility in fall of 2001.
Through a 1988 agreement with San Juan Basin Vocational Technical School (now San Juan Technical College), PCC established a presence in Cortez. Because of demand, the College also began to offer degree programs in Durango, thus forming the Southwest Campus.
Today, PCC is one of the most dynamic and progressive community colleges in Colorado. We continually strive to provide modern facilities, state-of-the-art equipment, and comprehensive technical and transfer programs that prepare students to enter the job market or transfer to a four-year school. Our faculty and staff are committed to student success, offering quality classroom instruction and academic support.