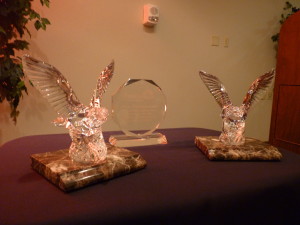 Each year, the Pueblo Community College Foundation hosts its annual Donor Appreciation Dinner that is designed to express gratitude to the generous contributors who have lent financial and in-kind support our Foundation.
A special part of the dinner program is the induction of new members into the President's Circle of Pueblo Community College. The honorees are presented wtih a beautiful crystal eagle which recognizes the spirit they have demonstrated through their substantial support in time and money to the Pueblo Community College Foundation.
The 2014 Donor Appreciation Dinner will take place on Friday, November 7, 2014.
The festivities will take place in the Fortino Ballroom within the Student Center at Pueblo Community College.
2014 Award Recipients
Kane Family Foundation
Mary Jane Voelker
2014 Donor Appreciation Dinner Invitation

Thank YOU to our 2014 Event Sponsors
Beverage Sponsor
Pueblo Community College Foundation Board of Directors
Entertainment Sponsor
Joe & Linda Welte
Award Sponsor
Mickey Moore & Irene Elgart
El Pomar Foundation
Event Patron
Sunflower Bank
Premium Sponsors
Ray & Patty Erjavec
Barbara Leonard
Marty Poole
Martha Simmons
Wynona Sullivan
Keith & Sharon Swerdfeger

Previous Award Recipients
2013
Jim Jatras, Margaret Lukas, Kaiser Permanente, and Black Hills Energy
2012
Assistance League of Pueblo and St. Mary Corwin Medical Center
2011
Marvin Knudson and Drs. Linda and Eric Carlson
2010
John and Agnes Maizga and the Daniels Fund
2009
Darryl Biggerstaff (posthumously) and The David and Lucile Packard Foundation
2008
Gloria and Walt Schepp and Sharon and Keith Swerdfeger
2007
Frank Petrocco and Sunflower Bank of Canon City
2006
Charles and Earlene Wolfers and Robert E. Trisler (posthumously)  
2005
Robert Hoag Rawlings Foundation and Parkview Foundation
2004
Joan Occhiato & Joe Holloran
2003
Intel Corporation and E. M. Christmas
2002
Peachy & Gene Wilcoxson and Ruth M. Robinson
2001
Damann Family and Art & Lorraine Gonzales
2000
The Welte Family and Tom & June Heal
1999
Clem & Marge Hausman, LeVert Hoag, Tony & Barbara Fortino
For more information on the 2014 Pueblo Community College Foundation Donor Appreciation Dinner
please contact Martha Simmons (719.549.3303 or email to Martha.simmons@pueblocc.edu).