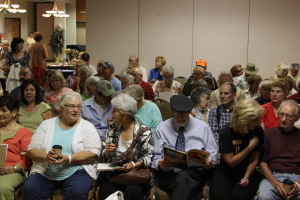 The fourth annual Pueblo Senior Law Day took place on Saturday, July 23 at the Pueblo Community College Student Center.
Colorado Senior Law Day is an educational seminar for senior citizens within our community.  Held once a year at several locations throughout the State of Colorado, Senior Law Days are the opportunity for the seniors in many communities to come together and take advantage of specialized programs and information pertaining to the legalities of senior citizens.
The Pueblo Community College Foundation hosted its 4th annual Senior Law Day on Saturday, July 23 at Pueblo Community College's Fortino Ballroom.  This very special half-day event provides all attendees with important and useful legal information on many issues including: estate planning, probate issues, fraud and identity theft, grandparents' rights and much, much more.  In addition to the seminars offered, participants have the opportunity to have a brief personal session with a local attorney.
 Colorado Senior Law Day is a Colorado Bar Association sanctioned event.
For information on future Senior Law Day Events, contact the Pueblo Community College Foundation at 719.544.0677.