PROVIDING SCHOLARSHIP OPPORTUNITIES FOR PCC STUDENTS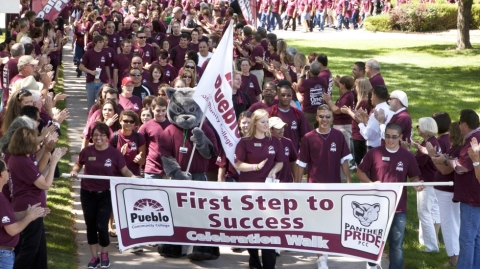 PCC Foundation Awards Student Scholarships
 
The Pueblo Community College Foundation is committed to awarding scholarships to those students enrolled at Pueblo Community College.  Since its inception in 1981, the PCC Foundation has awarded over $3.5 million in scholarship awards to students at PCC.
Each year the PCC Foundation awards hundreds of scholarship awards to PCC students thanks to the financial generosity of businesses, organizations and individuals.
The Foundation is always seeking out donors who will take an active role in providing the funding to award even more scholarships to PCC students at the Pueblo, Fremont, Durango and Mancos campuses.  If you would like to find out how you may become involved with this most important program, please contact the PCC Foundation office (719.549.3314) or email to Bianca.Flores@pueblocc.edu for additional information.
PCC FOUNDATION STUDENT SCHOLARS IN THE NEWS
Four PCC students selected to receive
Kane Family Foundation scholarships
PUEBLO – Pueblo Community College's pathway partnership with four-year schools has received a huge boost with the awarding of Kane Family Foundation scholarships to four outstanding students. That not only doubles the usual number of PCC's Kane scholarship recipients but it also adds another transfer institution to the mix.
For the past six years, two scholars had their associate degree education funded at PCC as well as their bachelor's degree studies at the University of Colorado-Colorado Springs (UCCS). But for the first time, the Kane Foundation will also finance two students who transfer to Colorado State University-Pueblo after earning their associate degree at the community college.
The scholars who will start at PCC and then transfer to UCCS are Kristyn Truan and Parker von Kalben. The two who will transfer to CSU-Pueblo are Raven Romero and Chance Adair.
They were selected on the basis of their academic record, a formal application with essay, and an interview. The scholarships will cover up to five years of expenses for tuition, mandatory fees and books, and the potential value is close to $30,000 per student.
Raven Romero is a Pueblo native who graduated from the GOAL Academy, where she was part of the Leadership Program. She is a mother and has been employed part-time for the past four years. From a young age, her career goal has been to be involved with family law and ultimately become a judge. She will pursue a degree in Pre-Law.
Chance Adair is from Colorado City and graduated from Rye High School, where he devoted himself to student council and year-round athletics including varsity football, basketball, and track while also volunteering his services to local snow removal, youth coaching, and firewood cutting. He will study Mass Communications.
Kristyn Truan is from Pueblo, and she was home schooled before attending the GOAL Academy as well as PCC's Early College program. Since a young age she has been involved with dance, piano, church youth band, photography and graphic arts. She will pursue a degree in Visual Communications.
Parker von Kalben is from Pueblo and a graduate of Central High School. He was involved with the TRiO Upward Bound for three of his high school years. He helps care for his grandfather, from whom he has learned the importance of education, service to others, and work ethic. His goal is to be a Computer Engineer.
The Kane Family Foundation scholarships are intended to reward students for both merit and hard work. They were established for state universities in 2008 and for state community colleges in 2008.
Wanden and Andy Kane were Fountain, Colorado, ranchers who shared an appreciation for learning and believed in the independence that it could provide.  Their vision was to help others, and their foundation allows their vision to continue by helping Colorado residents achieve the dream of a college education.
For more information about the scholarship, contact the PCC Foundation at (719) 544.0677.
Founded in 1933, Pueblo Community College is a premier teaching institution focused on providing academic and service excellence to help its students acquire the 21st Century skills needed to better their lives. An educational and technological leader, PCC fosters economic development and utilizes strong partnerships in the communities it serves through its Pueblo, Fremont and Southwest campuses.