PCC Panther Student Pantry Food Drive Racks Up Grandest Success Ever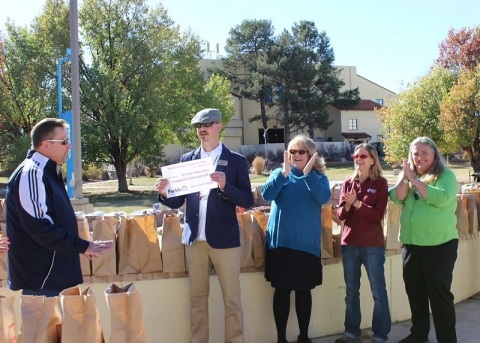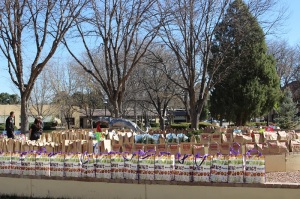 The results are in!  The administration, faculty, staff, students, Foundation and Friends of  Pueblo Community College collected a total of 422 Thanksgiving baskets for its students-in-need during the 2016 PCC Panther Student Pantry Food Drive which culminated on November 10, 2016.  The PCC Arts & Science Department collected the most supplies for this year's drive; 110 complete Thanksgiving Baskets and for their efforts, an additional $1,000 was donated to the PCC Panther Student Pantry courtesy of Dr. Patty Erjavec and her husband Ray Erjavec.
The breakout of donations from the PCC community included:
Arts & Science – 110 baskets
Business & Advanced Technology – 81 baskets
Student Success Division – 78 baskets
Academic Support Services – 47 baskets
Health & Public Safety – 24 baskets
President's Office Team (including HR, IR, Marketing, Grants) – 21 baskets
PCC Foundation – 20 baskets plus boxes of non-perishable food items and $505 in donations to the PCC Panther Student Pantry
SCCC – 15 baskets
Administration & Finance Division – 14 baskets
Fremont Campus – 12 baskets
"We are truly blessed by each and every donation to the PCC Panther Student Pantry," explained PCC President Patty Erjavec.  "Thanks to each donation made, our students will have the opportunity to celebrate a bountiful Thanksgiving Dinner!"
For more information on how you may make a donation to the PCC Panther Pantry, contact the PCC Foundation at 719.544.0677.  Any and all donations will be gladly accepted on behalf of our students in Pueblo, Canon City, Durango and Mancos/Cortez.