2015 Mingling and Mocktails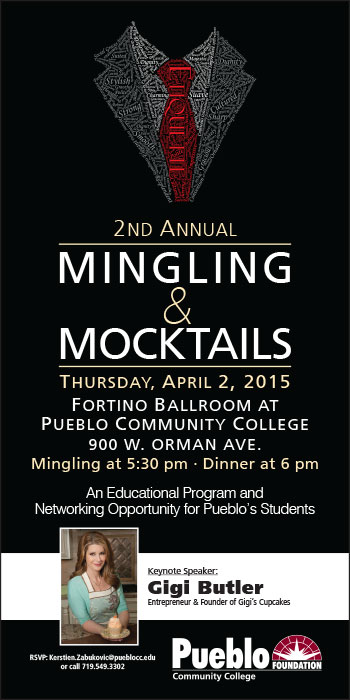 The 2015 edition of Mingling & Mocktails was a truly amazing event for Pueblo Community College students and DECA, FBLA, and Upward Bound students from Pueblo High Schools.  Gigi Butler, Founder & Culinary Creator of Gigi's Cupcakes traveled to Pueblo to give the keynote address at this year's event and served to inspire many within the audience.
To preview photos from this year's event CLICK HERE.
We are most appreciative to all who lent their financial support to make this year's event a reality including the Pueblo Community College Foundation, KR Swerdfeger Construction, El Pomar Foundation, TR Toppers.  In addition to those sponsors, we thank our event patrons including Mary Jane Voelker, Barbara Fortino and Tim & Lynn Simmons for their support of this year's event.
Simply an amazing evening in Pueblo, CO on April 3, 2015!